As a beauty junkie and product hoarder, I'm always looking for the "next best thing." When that best thing happens to be a "dark spot corrector" you have to do your research! The last thing you want is a product filled with things you can't pronounce that'll be bad for you. Insert me… Your research guru!
The first task at hand was to find as many of these products were out there (um, a lot!) Second thing…narrow that list down to the exact "target spots" I wanted to reach. Third, read up on those products as best as I could. What I found was interesting and disturbing. Lots of products contain chemicals that are extremely harmful to your health like mercury. Yes, mercury! So once I found products without bad chemicals, I found lots of other reviews on dark spot correctors and went from there!
City Cosmetics seemed to make their way on many of the "good for you" and "best dark spot corrector" lists. Of course if a company and one of their products is making the rounds across the beauty world as being one of the best, it has to be some truth in that, right?
I decided to contact City Cosmetics PR department (on my own) to ask for a sample and that's what I got! City Lights Radiance Perfecting Cream came via mail just a few days later.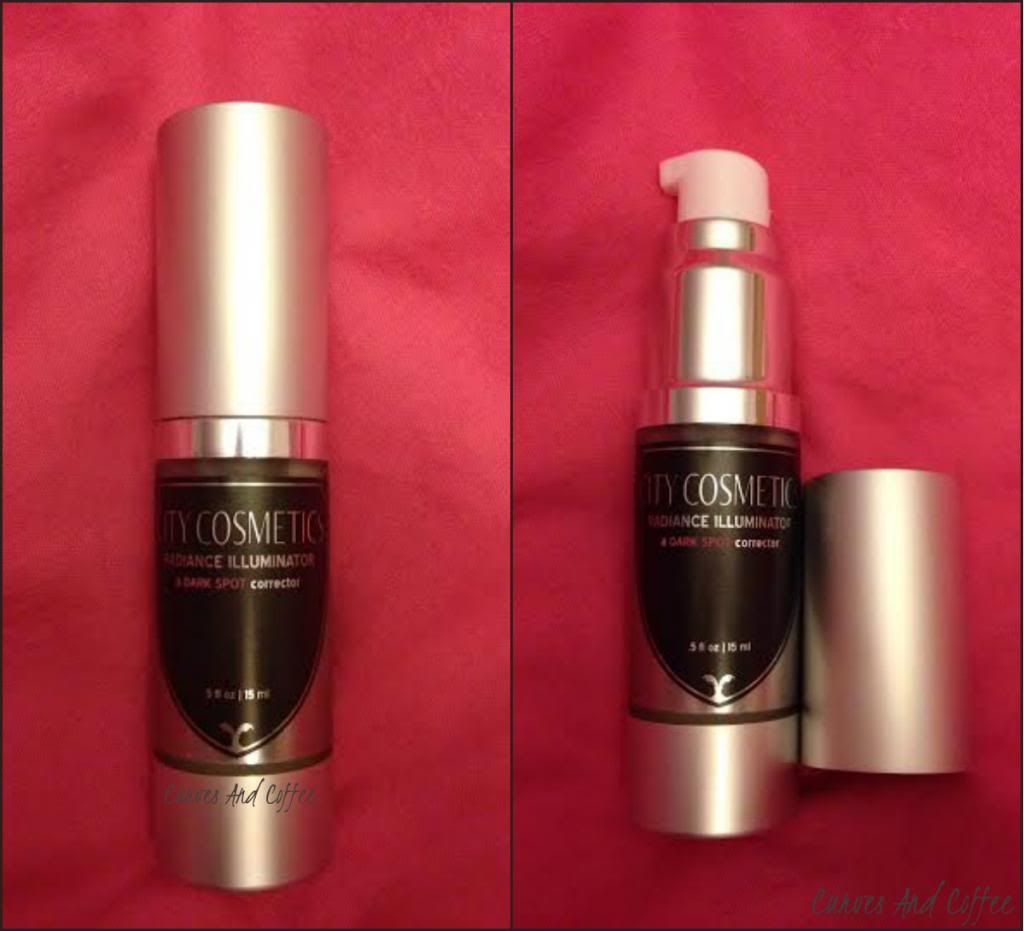 Pros of using this cream are obviously the results! There isn't a big change but definitely a slight lightening effect on my dark spots. The scent of the cream is great. It isn't sweet or medicine-y just a light fragrance. It has a sparkle effect when it comes out of the bottle but once it's completely rubbed into your skin it's almost undetectable!
The directions were to use the product twice a day after washing and drying your face. Apply to target areas and/or as a total face illuminator. According to the reviews, some people saw results within two weeks of using the cream, users saw a change in their skin. Now, me being the non-routine person that I am, of course I missed some mornings and some nights within two weeks of using the cream but I made up for it by continuing to use it. I'm currently on the third week!
This is a before and after…you can see how the dark spot is spreading out and slowly dissipating. I tried to show ONLY the target area and this mark has been annoying me for months and it's finally starting to disappear! I'm a believer!
Having a darker tone and sensitive skin, any type of acne I get will leave me with a dark mark whether I mess with it or not. The marks I have now are now being treated using the cream. I have taken "selfies" of the progress and I will update you guys as I continue.